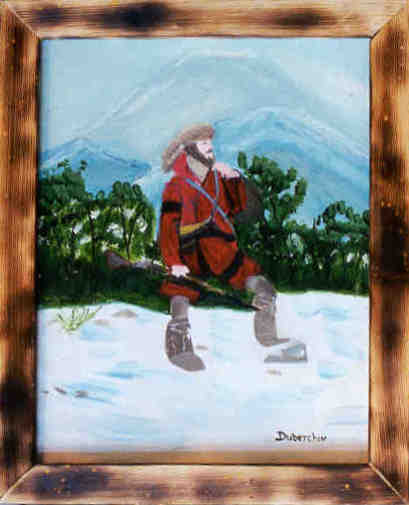 "Bearded Wilderness Explorer with Coonskin Cap and Boots"
Duderchan, 14" x 18"
Unremarkable on it's own, this painting packs a wallop when paired with the next painting featured in Gallery VII, "Brown Bear Attacks Well-Armed Men in Canoe". I was given the above painting as a gift within a week of purchasing the aforementioned "Brown Bear..." painting. The similarity in these two paintings is really quite astounding regarding the subject matter, palette, style, and even framing, so much so that for a fleeting second I thought that the two works were done by the same artist. However, closer examination reveals that although both paintings reveal their creator's keen sense of the beauty of the outdoors, they were in fact painted by different artists. Below is my correspondence with Barry Duderchan, nephew of the artist:
I saw this titled picture on your web site. Duderchan is a very rare name. As a matter of fact I believe that there are about 13 of us. They are all my family. I thought I knew all of them. Yet this painting has the artist name of Duderchan. Is there some additional information you can pass me? Maybe I have found a lost family member or a skill that we did not know about. Your help is really appreciated.


I pulled the above painting out of storage to check for additional information, but the only data I can find is the date of the painting on back(1986) and of course the artist's signature on the front. The work came from a Chicago thrift store, but when I checked the phone book, there were no "Duderchans". Sorry I couldn't help you out, but it is an interesting coincidence.

Duderchan is my family name and we are a very small family. I have found the artist to be my uncle. If you have an interest in learning more, you can e-mail me your questions.


Barry, That's fantastic that you were able to track down the painting's origin! How did the painting wind up in a Midwest Thrift Store after it left the possession of your Uncle? What region of the country does/did your Uncle live in when the painting was created?


My uncle used to display his paintings at his garage sales. That was his only source of sales. From there to the Thrift store is unknown. My uncle was very talented. Being from poor immigrants he could not afford to develop his talents. While you may call this "ugly art", my uncle did some very beautiful works. My uncle always lived in Michigan. During the Depression, he was a part of the CCC and stayed in the woods.
... and my correspondence with Faithe Duderchan, granddaughter of the artist:
To whom it may concern - I was doing a search on the Internet under my family name: Duderchan; and low and behold there is correspondence between someone from the gallery and my uncle, Barry. I do not know if you are interested, but my grandfather Jack, who is an avid painter has a very similar style to the ones you have exhibited on the web site. Who would have known such talent could transpire genetically! Oy!

Oy, indeed! Your family seems to have quite a few Internet researchers and Art aficionados in it - besides hearing from your uncle Barry, I also received a correspondence from your father (see below). From the background you give and some of the history that your father gave me, it sounds like your family lineage has quite an interesting artistic talent running through it.
... AND my correspondence with Michael Duderchan, another nephew of the artist:
Of all things I was communicating with my daughter who lives in Australia and she told me about the painting of Harry Duderchan which you have displayed and about which you had communications from my brother, Barry Duderchan. Curiously, he didn't tell me about you or about the painting of our uncle which you have displayed on your website.

I am fascinated by your collection of such art. I never thought of it as anything but beyond kitsch. Yet upon reflection it is&ldots;&ldots;I think&ldots;.. as important as serious accomplished artists. It is art by the people. Art for people who obviously love art and who tried. It is no different than household cooks who love food and try to cook as accomplished chefs or as any other amateur trying their hand at something they love. I'm really impressed by your collection and realize how important your collection can truly be. Fantastic.

Harry Duderchan was a typesetter. He died two years ago at the age of 84. I can remember for the past 50 years that he created incredible artwork in lucite - kitsch by most standards, but incredible nonetheless. Both Harry and our father Jack painted although Jack only began painting 10 years ago. He is 87 and nothing he has done has gone beyond his doors.

I think I've got the Duderchan family tree straight now (I also heard from your daughter Faithe). Harry is the uncle of Michael (you) and Barry (who wrote me earlier), correct? Your words "Art by People" describe my collection better than most any other term I've heard. I really think you would enjoy Jim Shaw's book for more fine examples of this type of Art. The fact that your father also paints is another interesting piece in the Duderchan puzzle .....I would bet that he has some great stuff, and I would encourage you to keep track of it for the future ..... I can't wait to update my site for all this "Duderchan activity" !!!