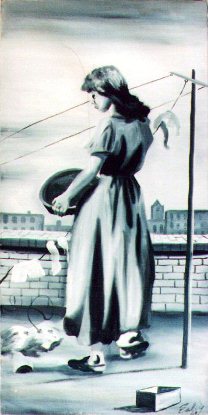 "Monochrome Woman Hanging Laundry"
Earley, 1962, 12" x 24"
Another fine purchase from the catacombs of the local City Flea Market. Compositionally I think this painting is almost perfect, but the monochromatic color palette is the real prize here. I'm constantly kicking myself for not returning to the dealer where I bought this painting to purchase the 30 to 40 other works by Earley which were stored in a drawer in the back of his booth. They were selling for $3.00 apiece. At the time I reasoned that it would be too much trouble to put the paintings back on their wooden stretchers which had been removed for transport. When I realized my oversight and returned to buy the paintings a few weeks later they had already been sold. The works I missed out on utilized the same bluish color scheme as the stretched canvas shown here, and the subject matter of those paintings ran the gamut from landscapes to portraits.