"Lighthouse Cove Near Big Sur"

R.J. O'Brien, 14" x 18"

"Public School No. 23"

R.J. O'Brien, 1965, 14" x 18"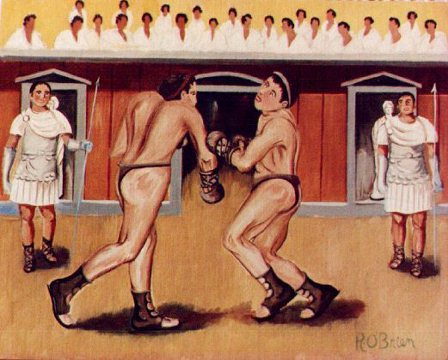 "The Coliseum in Rome, B.C."
R.J. O'Brien, 1962, 8" x 10"
"A Window of Her World"

R.J. O'Brien, 1967, 14" x 18"

"California University at Berkley"

R.J. O'Brien, 1965, 14" x 18"
A seductive pose, a mysterious glance, historical drama, quiet reflection, surreal ambiguity; these all were the tools of R.J.O'Brien. Quite prolific, Mr. O'Brien was known to paint not only engaging portraiture, historical narratives, and religious allegories, but also exacting copies of the old masters' finest paintings. The execution and color of the above are excellent, and O'Brien has incorporated an unusual variety of wood treatment techniques (i.e. stains and varnishes) onto the thin boards on which these works are painted. At present the Gallery is unfortunately only able to feature five of this California visionary's masterpieces, as rumors of other existing O'Brien paintings have proved unfounded.