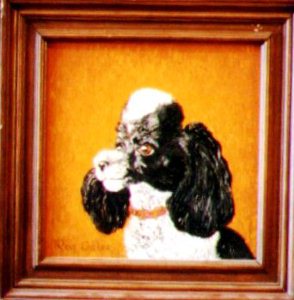 "My Pet: The Black and White Poodle"
Roger Oakley, 1968, 16" x 16"
This painting never fails to bring a smile to people's faces. Although weakly rendered it is obvious that proud pet owner Roger Oakley had the sincerest of intentions. I so wish that I knew this charming creature's name, but alas, the back of the painting provides no clues. I am inspired to call out to the dog and I can almost imagine him bounding joyfully towards me, tail wagging, as I hold out my hand to lick. However, because I have no name to call I am unable to fully engage myself with this painting. The sad eyes, the subtle tilt of the head, and the forlorn expression on this pet's face all contribute to my feelings of melancholy when viewing this piece.