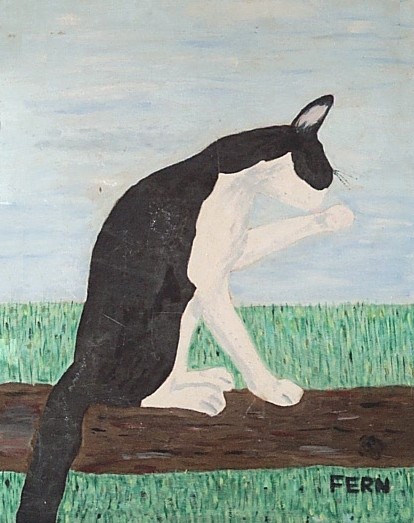 "Black and White Cat on Fence"
Fern, 16" x 20"
While the previous painting is dedicated to the memory of Prudence, this painting honors the presence of my new feline friend, Penny. My mother-in-law noticed that almost every recent cat food, cat litter, or pet advertising campaign these days has a black-and-white cat in it, and after paying close attention to the types of cats featured in these ads, I can't argue with her.

Dear Sir, I am an Italian pediatrician and I have to prepare a speech on birthmarks,( Black spots and White spots). The speech is to be presented in a meeting of national relavance. I have seen a beautiful painting of a Black and white cat in Your web site. I would like to include it in my presentation with Your permission , obviously giving the proper credit to your work. I am looking forward to your reply.

Thank You
G. Rovatti